Sell
Rolex

Watches for the Best Price

"We Pay More Guaranteed!" - Paul Altieri, Founder & CEO
Have a photo?
Get a faster quote by sending us a photo
We Respect Your Email Privacy // We Will Not Share Info
By submitting your phone number, you agree to receive offer notification text messages from Bob's Watches at the phone number used when submitting. Consent is not a condition of any purchase. Reply HELP for help and STOP to cancel. Msg frequency varies. Msg and data rates may apply.
Featured On
"The Largest Watch Trading Site"
"The Most Trusted Place To Sell a Rolex"
"The Best Place To Buy & Sell a Rolex"
How It Works
Free & Fast Offer
Simply select your watch and answer a few questions.
Ship It To Us
Bob's Watches will send you a free, fully insured FedEx label.
Get Paid
Receive cash, wire, or check instantly.
About
Bob's Watches
Our Story
Founded in 1999, Bob's Watches is the leading online marketplace for buying, selling and trading used Rolex watches for men and women. With over 20 years of experience, and thousands of satisfied customers, we carry the world's largest selection of used Rolex watches for sale as well as other top brands like Omega, Panerai, Patek Philippe and more. Our pre-owned Rolex exchange is known for providing excellent customer service and offering the best prices through our low-price guarantee. All watches listed on our site are in stock and immediately available for free overnight shipping. Our selection is meticulously inspected and authenticated by third-party experts, ensuring every luxury watch listed on our store is 100% certified authentic.
Located in Newport Beach, California, we are proud members of the BBB, the IWJG, Jewelers Board of Trade and the Chamber of Commerce.
Along with a wide selection of new and used models for purchase, Bob's Watches is the most trusted destination to sell vintage and contemporary Rolex watches at full market value. Our Rolex serial numbers chart look-up tool helps owners learn when a specific piece was manufactured, and by filling out and submitting the form on our Sell Rolex page, viewers can get exact estimations on models in question. In addition, our YouTube video helps visitors learn "How to spot a fake Rolex."
Trust, honesty, and transparent pricing. Bob's Watches offers the largest and finest selection of used, pre-owned, and vintage luxury watches from brands including Rolex, OMEGA, Patek Philippe, Panerai , and more. It has become the ultimate destination for consumers looking to buy, sell, or trade certified pre-owned timepieces, attaining a BBB A+ rating, and has been quoted and featured in many of the world's leading news publications.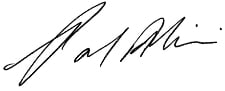 Paul Altieri
Founder and CEO | Bob's Watches
Vintage Rolex Watch Buyers - To get a price quote, just fill out the form above or call (800) 494-3708 for a free phone appraisal.
Why Choose Bob's?
We pay full market value for Vintage Models
We are reputable and honest: check our reviews and Better Business Bureau rating of A+
We will wire you payment same day
We are members of the IWJG and Chamber of Commerce
Call us today for a free quote to sell your vintage Rolex watch or submit the form above.
View our fine collection of vintage Rolex watches like the iconic Rolex Submariner 5512, 5513, and 1680 Red. Price values have grown significalntly over the past 20 years despite the ups and downs of the economy. Some vintage Rolex models have increased five fold over the past 10 years and continue to rise each year as more and more watch enthusiasts seek to build on their collections.
Below you will find some useful information on vintage Rolex watches including but not limited to the celebrated Rolex Submariner, along with useful info and facts about the most significant changes in its long history. We also wish to include the most prominent references and auction results (hammer prices) from Sothebys and Christies. We hope you find this brief guid helpful.
Looking for a vintage Rolex watch to add to your collection or to learn more about some of the most celebrated models in history? Throughout the years, Rolex has prided itself on creating beautiful luxury watches that last the test of time. We hope the following information on vintage Rolex watches will both educate and enlighten as to Rolex's amazing value in today's world. It doesn't matter if you're buying or Selling a Rolex, the value of a finely crafted Swiss luxury watch is undeniably worth every penny.
Rolex Submariner 6200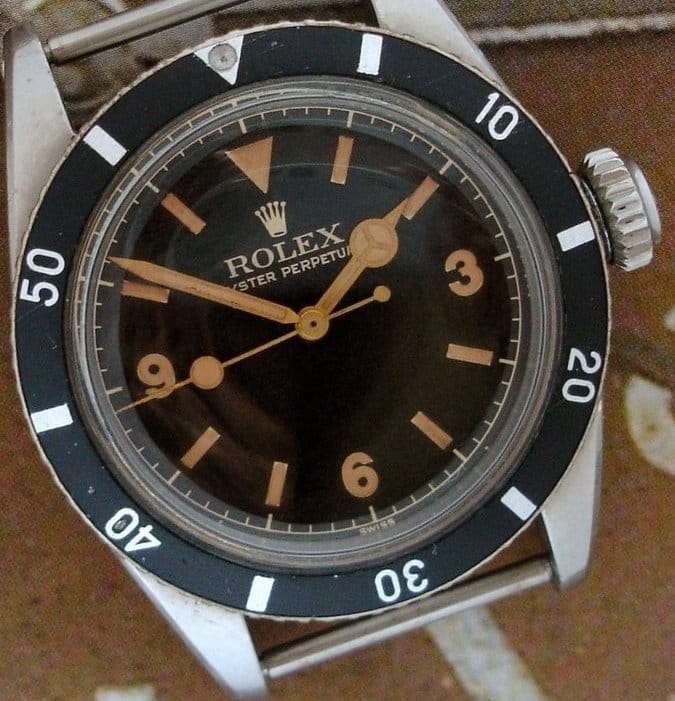 Born in 1954, the vintage Submariner was given the distinction of being the first watch a diver or submarine operator could wear 200-meters down into the sea. The watch boasts of a time-recorder that can be calibrated from zero to 60 and comes encased in a beautiful pressure resistant Oyster case. The Submariner 6200 also includes an 8mm-diameter crown and elegant explorer dial that features a triangle at its top.
Rolex Submariner 5512
In 1959, Rolex made some major changes to the much loved Submariner. The main difference was the addition of "shoulders" that were featured on the crown side in an effort to protect the winding and setting mechanism. Through 1964, the shoulders were pyramid shaped and as the model further evolved became rounded. The Submariner 5512 can be taken down to depths of 200-meters and is also noted for its oversized crown.
Rolex Submariner 5513, 5514, 5517
This beautiful watch boasts of an oversized crown and the first-ever crown guard. Released in 1962, the Rolex Submariner 5513 includes a rotative bezel which helps divers gauge the length of their dive. History reveals that the 5514 model was originally developed for a French diving organization named COMEX so that they could more effectively navigate the depths of the seas.
Rolex Submariner 1680 & 1680-8
In 1969, the Rolex Submariner 1680 wowed Rolex fans with its rugged simplicity. The model included an all-new glass made of plastic crystal and the date stood out larger than life under its all-new magnifying glass.
Around the same time, the Submariner also came in 18K gold. Rather than only being available in stainless steel, the model turned a more luxurious corner. Noted as the Rolex Submariner 1680-8, it was made of yellow gold. Additionally, the elegant watch included a bi-directional bezel and automatic movement.
Rolex Submariner 16800 and 168000
In the 80s, the Submariner entered an all-new class with its sapphire crystal. Divers were even more enthusiastic about the model because it could be taken to depths of 300-meters. Because Rolex felt it necessary to make some major improvements on the 16800, within less than a year they upgraded it to the 168000. One of the key differences between the models is the quality of the stainless steel utilized, as the newer model was made with three times higher grade material.
Rolex Submariner 16610
The Rolex Submariner 16610 wristwatch was brought to market in 1986 and is still produced today. Available in either stainless steel or 18K gold, it can be taken to depths of 300-meters and is equipped with the Superluminova dial and Triplock bracelet. Upon first glance, it is quite obvious that the watch is both elegant and practical for use in nearly any situation.
Rolex Submariner 16618
In keeping with the Submariner's legacy of amazing quality and supreme performance, the Rolex Submariner 16618 timepiece is a favorite model for many. The major difference between it and the 16610 is the wide variety of choices such as the choice between a black or blue face and the possibility for diamonds or sapphires.
Rolex Submariner 14060 and 14060M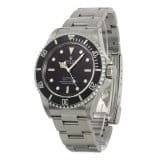 By the time 1988 rolled around, the Rolex Submariner 14060 revealed the beauty of tropic glass. Additionally, its movement was smoother than ever at Caliber 3035. Divers and submarine operators continue wearing the classic at depths of up to 300-meters which equates to 1000 feet.
In 2001, the 14060M was showcased featuring 31 jewels and its movement was updated to 3130.
Rolex has a rich history that has seen it continually evolve its products and wow its customer-base. The Rolex Submariner sport watch is a prime example of the company's ability to stay true to their classic roots, while carefully revolutionizing the watch throughout the decades. The study of vintage Rolex is quite amazing indeed!
Vintage Rolex Submariner Ref. 6538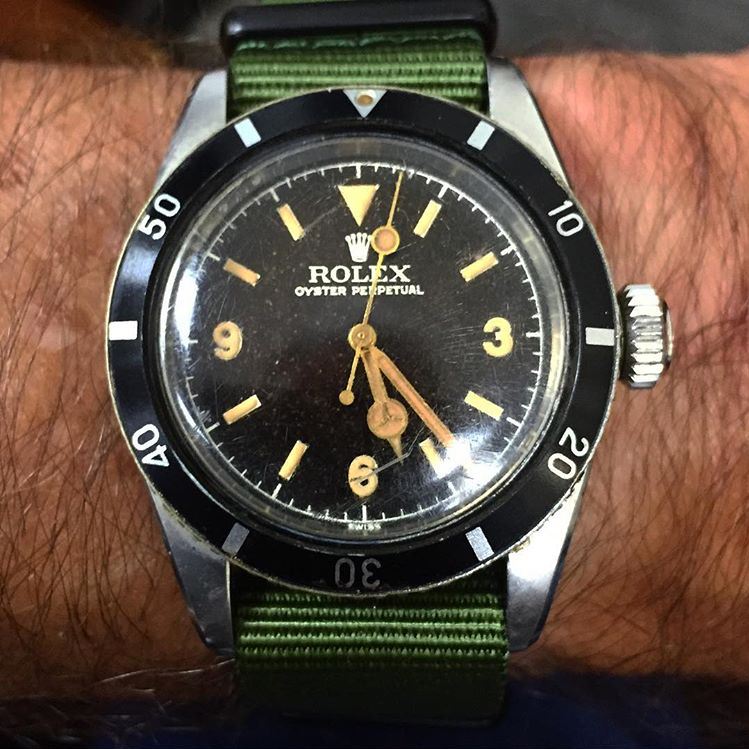 This Rolex wristwatch was first produced in 1954 and continues to be a rare find today. It is often called the "James Bond" model since it was the one worn by James Bond in the movies in the 1960's. What is unque and interesting about this Rolex 6538 is that the crown has no guard, hence the term "no crown guard james bond"
Rolex Milgauss 6541
The Oyster Perpetual Chronometer Milgauss Ref. 6541 was released in 1958, and was the first watch developed by Rolex to have 1000 Gauss anti-magnetic ability. The Milguass's unique anti-magnetic resistance is due to a shield inside the Oyster case made of ferromagnetic alloys, surrounds and protects the movement from magnetic interference. Most of the existing Milgauss reference 6541s feature a bezel with black scales, which is visually similar to the early Submariner watch. However, the Milgauss features a unique lightning bolt second hand with a small red arrow at the tip. Some versions of the Milgauss feature this lightning bolt in a bold orange. Milgauss reference 6541 is equipped with the 25 jeweled calibre 1080. The dial of Milgauss 6541 offers a distinctive design, featuring 3-6-9 steel hour markers, while the other hour markers are radium-coated rounded dots. Like many of Rolex's watches, the Milgauss reference 6541 uses the waterproof Oyster case and stainless steel bracelet.
Rolex Daytona 6239
The Rolex Cosmograph Daytona reference 6239 is the first Daytona released by Rolex. Daytona reference 6239 was manufactured from 1963 until 1969. The majority of the original Daytona reference 6239s were made in stainless steel, though rare 18k gold models do exist. During its production time, Rolex utilized plastic crystal rather than the later sapphire crystal. Rolex did utilize the Oyster case, however, with its screw down crown to ensure water resistance. Until 1963, Rolex watches were not routinely categorized. With the release of the Daytona reference 6239, Rolex was able to consistently categorize and name this model. Initially, the "original" Rolex Daytona reference 6238 was named LeMens. However, with the push into the American market, coupled with its emphasis on racing, the name Daytona was issued with reference 6239. The Rolex Daytona reference 6239 was also the first Rolex watch to feature inverse colors for its three sub-dials, as well as featuring the tachymeter scale on the bezel as opposed to the dial. These wristwatches are still coveted secondhand wristwatches to a number of collectors.