If you are just at the start of your watch collecting journey, it is perfectly understandable to be a little bit anxious (if not flat-out terrified) about some of the price tags you will have seen. Sophisticated luxury watches have never been cheap, and it is certainly true that there are a number of them out there that sell for roughly the same price as a pretty decent house – however, not all luxury watches cost a fortune. Virtually every brand produces a catalog of models that range in value from the extraordinarily expensive to the surprisingly affordable. Of course, the term "affordable" is open to interpretation. You won't be finding anything under the four-figure mark, but it might be a pleasant surprise to learn how low into that territory you will be venturing.
The other thing to remember is that these luxury watch manufacturers have garnered the reputations they enjoy today, most of all, through an obsessive dedication to quality. Just because an entry-level watch removes a zero (or two) from the end of the asking price compared to the flagship pieces, it doesn't mean that they have been thrown together halfheartedly or lack the same quality as their more premium counterparts. They will still have been designed and built by the same people, in the same facilities, and (generally speaking) with many of the same materials as models costing thousands of dollars more.
So, with all that in mind, let's take a look at some of the industry's most tempting and accessible watches from the top brands.
Rolex Oyster Perpetual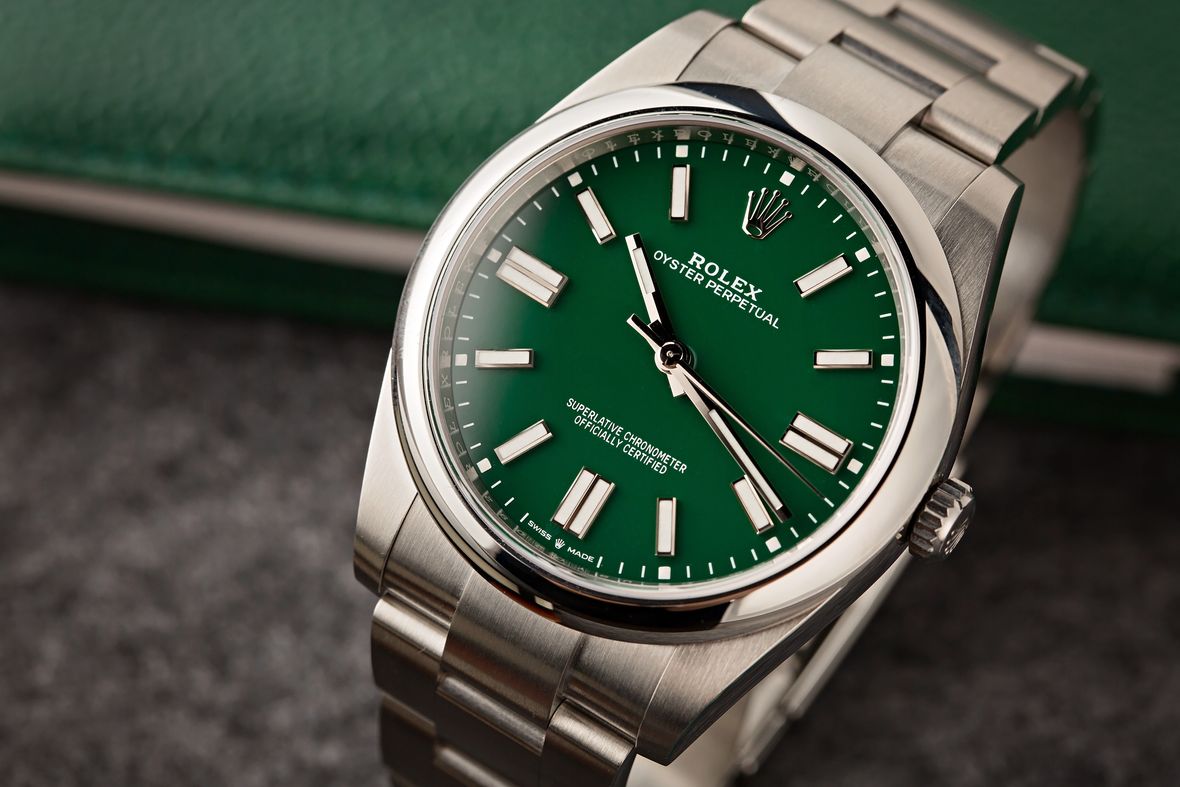 Oyster Perpetual Key Features:
– Case Diameter: 28mm; 31mm; 34mm; 36mm; 41mm
– Materials: 904L Stainless Steel
– Functions: Time /w Running Seconds
– Bezel: Fixed, Smooth Style
– Dial: Multiple Color Options Available
– Bracelet: Oyster Bracelet
– Water Resistance: 100 Meters / 330 Feet
– Retail Price Range: $5,100 – $5,900 (Approx.)
Click here for our Ultimate Buying Guide on the Rolex Oyster Perpetual.
In many ways, the Oyster Perpetual is the very essence of Rolex. The name is taken from the company's two groundbreaking innovations; the waterproof Oyster case and the self-winding Perpetual movement, which were invented in 1926 and 1931 respectively. Between them, they did more to popularize the wristwatch as an essential accessory for both genders than anything else, either before or since.
Technically, everything Rolex makes now (except for the Cellini series) is an Oyster Perpetual, as the brand's entire portfolio is both water-resistant to at least 100m and driven by an automatic caliber. The Submariner's full name is actually the Oyster Perpetual Submariner, the Datejust is the Oyster Perpetual Datejust, and so on.
However, since the 1930s there has also always been simply the Oyster Perpetual range, typically the most modest, minimalistic group of watches the brand offers. That has carried on today, with a compendium of more than 30 models, split across five different sizes, which are the most inexpensive new Rolex models you can buy (at least when purchased at retail).
The Oyster Perpetual's role in the grand scheme of things is pretty obvious. Between its broad scope in dimensions (28mm, 31mm, 34mm, 36mm, and 41mm) and its wide assortment of different dial designs – from the understated to the outrageous – Rolex's entry-level piece is set up to appeal to any man or woman looking for that one good watch to go with anything and last a lifetime.
However, just because it represents the gateway into Rolex ownership, it doesn't mean the Oyster Perpetual is in any way lacking. While there are no precious metal versions anymore (although you will find plenty on the vintage market) the stainless steel the brand uses is the same extremely tough and corrosion-resistant 904L alloy you will find in every other stainless steel watch in the collection.
Similarly, the movements across the board are the very latest calibers to emerge from Rolex's industry-leading workshops. The 41mm and 36mm models are both powered by the next generation Cal. 3230, with its Chronergy escapement, 70-hour power reserve, and proprietary blue Parachrom hairspring. The smaller three versions all contain the Cal. 2232, another superb mechanism, which gives a 55-hour reserve and benefits from the Syloxi silicon hairspring that, if anything, slightly improves upon Rolex's Parachrom.
All in all, the Rolex Oyster Perpetual is just about as good as a three-handed, time-only daily wearer can get. Handsomely robust and hugely versatile, it is one watch that never looks out of place. And perhaps best of all, it is a steel Rolex you have at least half a chance of being able to find at an authorized retailer – although that depends on what dial color you want. The turquoise blue, coral red, green, and yellow versions are all trading hands at around twice their official retail price.
Other Rolex options to Consider:
– Rolex Datejust: The quintessential all-rounder Rolex watch.
– Rolex Explorer: An Oyster Perpetual with iconic dial and fantastic backstory.
Tudor Black Bay Fifty-Eight
Black bay Fifty-Eight Key Features:
– Case Diameter: 39mm
– Materials: Stainless Steel; Sterling Silver; 18k Yellow Gold; Bronze
– Functions: Time /w Running Seconds
– Bezel: Rotating Dive Bezel w/ Aluminum Insert
– Dial: Blue or Black (Stainless Steel); Taupe (Sterling Silver); Green (Yellow Gold); Brown (Bronze)
– Bracelet: Rivet-Style Bracelet; Leather Strap; Cloth Strap
– Water Resistance: 220 Meters / 660 Feet
– Retail Price Range: $3,375 – $16,800 (Approx.)
Click here for our Ultimate Buying Guide on the Tudor Black Bay.
Few manufacturers have thrived in recent times more than Tudor. The sibling company to Rolex was absent from the U.S. market for around 10-years until it came storming back in 2013 with an all-new group of watches, split between contemporary and vintage-inspired models.
While the likes of the North Flag and Pelagos were all well received, it was the decidedly retro-looking Heritage series that really captured the imagination. Drawing on traditional dive watches from its own archives, the original Black Bay was such a success that the collection has now grown to include scores of different watches in numerous styles and with various complications.
The Black Bay Fifty-Eight first debuted in 2018 and has become possibly the most popular model in the range. In the years since its release, Tudor has expanded the Black Bay Fifty-Eight line to include a blue dial variant, along with a sterling silver version, an 18k yellow gold model, and even a full-bronze reference on a matching bronze bracelet.
Vintage-style watches have been all the rage for several years now, with many brands dipping into the back catalog and re-issuing favorites soaked in nostalgic touches, with varying levels of success. Some have been accused of overdoing it, with the use of heavy-handed 'fauxtina' and artificially aged components, but Tudor's Black Bay Fifty-Eight has walked that delicate line between old and new just about perfectly. Everything, from the size (39mm) to the lack of crown guards, the no-date gilt dial, the red triangle at the 12 o'clock and the Snowflake hands leaves you thinking that you are looking at something from the 1950s. The no-nonsense brushed steel case has beautiful thick bevels and the aluminum insert in the bezel has an appropriately matte finish.
On the inside though, everything is quite up-to-date. The MT5402 is from a new breed of in-house movements built for Tudor by Kenissi. In the past, Tudor has relied on third-party calibers from ébauche maker ETA. However, Tudor has continuously been updating its models with in-house movements, and while the brand still produces some models that are powered by ETA-based movements, many models like the Tudor Black Bay have already received their in-house calibers.
The MTA5402 replaces the ETA 2824-2 Tudor once used for many of its smaller, time-only pieces. The creation of in-house calibers is a major step for any watchmaking house and is perceived as a coming-of-age. It has also seen Tudor close the gap with Rolex in many fans' eyes; in-house versus outsourced engines have been the most significant gap between the two brands for many years.
The MT5402 is an excellent movement that follows the usual Rolex decree of function over form. What it lacks in decorative finishing it makes up for in strength and precision. Like the other workhorse calibers in the stable, it will just keep on ticking, accurately and reliably, helped along by a silicon hairspring of its own.
The watch is available in stainless steel with either a black or blue dial and bezel. Additionally, Tudor also offers the Black Bay Fifty-Eight in solid 18k yellow gold with a green dial, in sterling silver with a taupe dial, or in full bronze with a brown dial and matching bronze bracelet. Bracelet choices take in a wonderfully period-correct riveted design or color-matched leather and nylon straps. As a classic that gets everything right, the Tudor Black Bay Fifty-Eight is almost unbeatable value for money.
Other Tudor Options to Consider:
– Black Bay GMT: The dual time zone model with a larger case and iconic Pepsi bezel.
– Black Bay Chrono: A larger case with chronograph functionality and plenty of presence.
Omega Seamaster Diver 300M
Seamaster Diver 300M Key Features:
– Case Diameter: 42mm
– Materials: Stainless Steel; Stainless Steel & 18k Yellow Gold; Stainless Steel & Sedna Gold
– Functions: Time /w Running Seconds, Date Display
– Bezel: Rotating Dive Bezel w/ Ceramic Insert
– Dial: Black; White; Blue; Grey Ceramic w/ Laser-Engraved Wave Pattern
– Bracelet: Matching Metal Bracelet; Color Matched Rubber Strap
– Water Resistance: 300 Meters / 1,000 Feet
– Retail Price Range: $4,900 – $10,500 (Approx.)
Click here for our Ultimate Buying Guide on the Omega Seamaster.
These days, Omega is just about the only company in Rolex's price bracket that can give its oldest rival cause to check over its shoulder. The historic Swiss brand is another manufacturer enjoying a real resurgence at the moment, finally getting back on track after years languishing in the doldrums brought on by the quartz crisis and its aftermath.
Arguably the watch that started its resurgence was the first of the Seamaster Diver 300M series, released in 1993. Not only was it a good-looking and capable timepiece, but it also received an unmatchable marketing boost when the blue version appeared on Pierce Brosnan's wrist in his debut outing as 007 in Goldeneye the following year. (A quartz model, ironically enough). James Bond may have upgraded to the automatic version in the following film, but Brosnan wore a blue wave dial Seamaster Diver 300M in every single one of his appearances as James Bond.
The Seamaster name goes back a lot further than that of course, initially used for a water-resistant dress model from 1948 before the original Seamaster 300 arrived as part of Omega's 1957 Professional Collection, alongside the inaugural Speedmaster and Railmaster. The modern-day Omega Seamaster Professional Diver 300M (to give it its full and often confusing title) is positioned as a full-on Rolex Submariner killer – and in more than a few areas, the Omega has it beat.
Perhaps its most convincing win is on price. Retailing for around $5,200 for a stainless steel model on a matching steel bracelet, it is nearly $4,000 less than the cheapest comparable Submariner (the ref. 126610LN). It is also bigger (between 42mm vs. 41mm) and comes with a helium escape valve, something you have to upgrade to the Sea-Dweller in order to get over at Rolex. Will you ever need it? No, but it's there anyway!
As well as that, it has a ceramic bezel like the Submariner, but also a ceramic dial, with an appealing laser-etched wave pattern. The water resistance is identical and most importantly, even though it is the entry-level model, the 300M has been fitted with the Omega Master Chronometer Caliber 8800, complete with the revolutionary Co-Axial escapement and METAS certification.
There's also more variety. The current collection houses seventeen pieces (not including the ceramic model), as opposed to the Submariner's eight, and while there are no solid gold models, the two-tone pieces with either yellow or Sedna gold are definite eye-catchers. All things considered, it's hard to think of anywhere else you get quite as much watch for the money, and for those who want a luxury dive watch from a top-tier company, the Seamaster Diver 300M is certainly worth a look.
Other Omega Options to Consider:
– Railmaster: The same price as the 300M but with a fixed bezel and a more understated aesthetic.
– Speedmaster Moonwatch: The most famous chronograph watch ever made and the definition of an industry classic.
Panerai Radiomir Black Seal Logo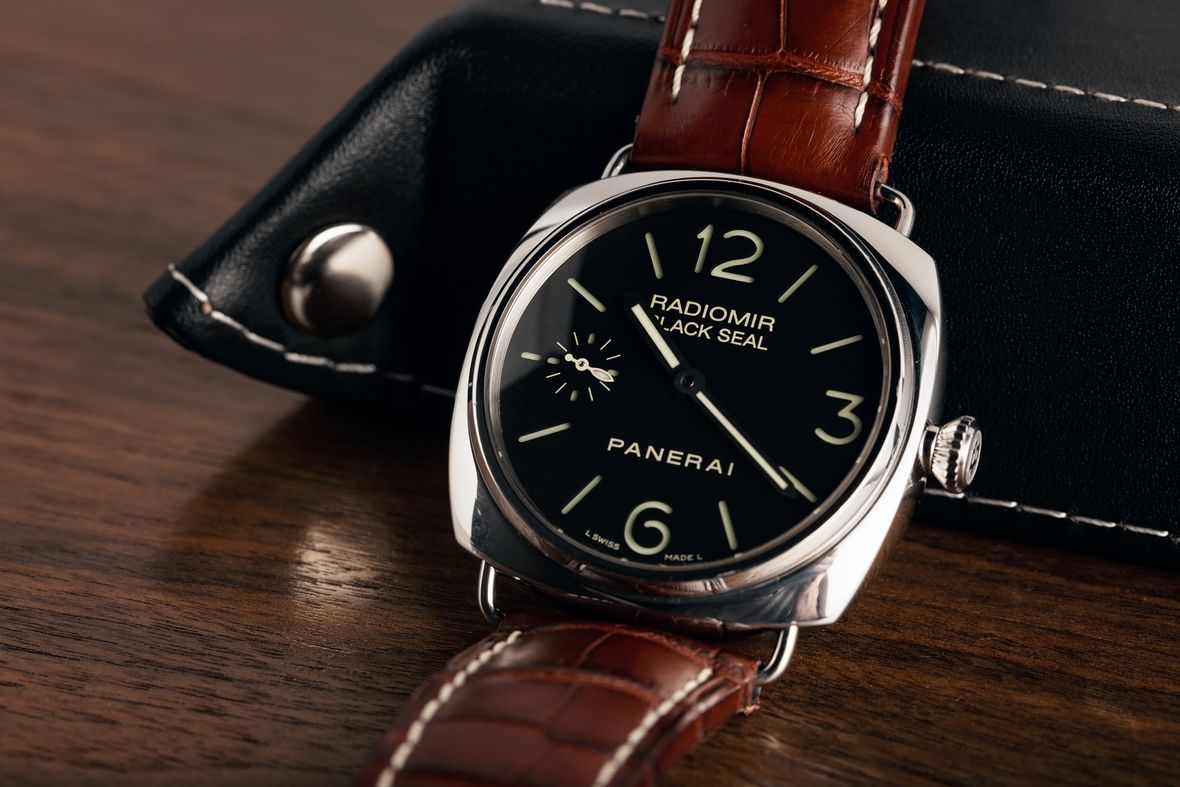 Radiomir Black Seal Logo Key Features:
– Case Diameter: 45mm
– Materials: Stainless Steel
– Functions: Time w/ Running Seconds
– Bezel: Fixed, Smooth Style
– Dial: Black w/ Luminous Hour Markers
– Bracelet: Leather Strap; Canvas Strap
– Water Resistance: 100 Meters / 330 Feet
– Retail Price Range: $5,000 (Approx.)
Click here for our Ultimate Buying Guide on the Panerai Radiomir.
Another dive watch (technically speaking) but of a very different style, the Radiomir Black Seal Logo is positioned near the entry point for legendary Italian brand Panerai. Although the manufacturer has been around since 1860, the availability of its watches to the general public is a relatively new thing. It wasn't until 1993 that the first trio of civilian models arrived – the Luminor, Luminor Marina, and Mare Nostrum – after the company spent most of the 20th century fulfilling only military contracts.
Those three models all took their inspiration from the watches Panerai had been creating for the Italian Royal Navy since the end of WWII, but the Radiomir predates even those. The Radiomir can trace its lineage back to 1936, when the prototype was built for the frogmen of the First Submarine Group Command, using a water-resistant housing and movement supplied by Rolex.
Fast forward to today, and many of the same elements remain in play on the current Panerai Radiomir. The signature cushion-shaped case is a faithful recreation, although this version's dimensions have dropped to 45mm from the original's 47mm, it has kept the distinctive wire lugs – a throwback to the very earliest style of wristwatches, which were simply pocket watches with wire lugs soldered to them to hold a strap.
As for the dial, while it might not be one of the 'sandwich' style faces of the brand's more expensive offerings, it is still just about as readable as you could hope for. A mix of stick batons and huge Arabic numerals at the 12, 3, and 6 o'clock with a running seconds indicator at the 9 o'clock location, all finished with plenty of lume (and given a nicely judged cream color for a bit of vintage nostalgia) ensure supreme legibility.
There is nothing else on the dial to distract attention except for a small Panerai logo on the lower half, along with the obligatory "Radiomir Black Seal" branding below the 12 o'clock. Inside, the in-house caliber P.6000 replaces the Unitas ETA 6497-1 of earlier examples. The in-house, manually-winding movement is an especially large unit (38mm), and it's more than hefty enough to survive some real punishment, along with offering users a 70-hour reserve.
To many collectors, a $5,000 Panerai is something they thought they might never see, but the brand has been expanding its range in more customer-friendly directions over the last few years. No longer just known for making physically enormous and highly expensive models, Panerai has become more all-encompassing and the Black Seal Logo is one of the most accessible of them all. A beautiful watch with a real presence, the Panerai Radiomir Black Seal is a definite contender.
Other Panerai Options to Consider:
– Radiomir Base Logo: Essentially the same watch but in a two-hand format without the running seconds indicator.
– Luminor Marina: The equivalent from the Luminor collection with its signature crown-protecting bridge.
Breitling Superocean Automatic
Superocean Automatic Key Features:
– Case Diameter: 36mm; 42mm; 44mm; 46mm; 48mm
– Materials: Stainless Steel; Titanium; Stainless Steel & 18k Red Gold
– Functions: Time w/ Running Seconds; Time w/ Running Seconds, Date Display
– Bezel: Rotating Dive Bezel w/ Ceramic or Rubberized Insert
– Dial: Black; Orange; Blue; White; Yellow; Green
– Bracelet: Stainless Steel Bracelet; Color Matched Rubber Strap; Nato Strap
– Water Resistance: 200 Meters /1,650 Feet – 2,000 Meters / 6,600 Feet
– Retail Price Range: $3,600 – $6,300 (Approx.)
Click here for our Ultimate Buying Guide on the Breitling Superocean.
Probably better known for its ties to the world of aviation, Breitling's historical links with the sea go way back as well, with the Superocean line starting back in 1957. It was launched to go into battle with Omega's debut Seamaster released the same exact year, as well as the Blancpain Fifty-Fathoms and the Rolex Submariner from a few years before. It was obviously a tough ask for Breitling to challenge that trio of dive watch legends, but the Superocean's 200m water resistance rating matched that of the Omega and Rolex, and more than doubled the depth rating of the original Blancpain.
The Breitling Superocean range has been with us ever since, frequently tweaked and updated, but never giving up its professional dive watch capabilities. These days, the series covers five case sizes (36mm, 42mm, 44mm, 46mm, and 48mm) as Breitling's CEO, Georges Kern looks to revamp the brand's entire portfolio to appeal to a more unisex audience. With the 36mm technically marketed as a ladies' watch, the entry-level model for men (and the cheapest men's mechanical Breitling you can buy) is the 42mm Automatic.
Styling-wise, Breitling Superocean watches are unflinchingly modern (although those who want a vintage-inspired dive watch have ample options within the Superocean Heritage lineup). The dials feature a mixture of bold Arabic numerals and large lume-filled geometric shapes, with a date window at 3 o'clock (the exception being the various 48mm titanium models, which feature time-only displays).
Inside is the Breitling 17 movement, which is based on the tried-and-true ETA 2824-2. A perfectly reliable, no-frills engine, it offers a 38-hour reserve, a 28,800vph frequency, and since it is a commonly used third-party caliber, you will have zero problems getting it serviced by any watchmaker of your choice. Perhaps best of all, even the "least" water-resistant models are rated to a depth of 200 meters, with the most dive-worthy topping out at a whopping 2,000 meters. You may never need that amount of water resistance but you will certainly struggle to find anything that goes deeper for less.
The Breitling Superocean Automatic is available with a range of different dial colors and is offered on either a matching stainless steel bracelet, a color-matched rubber strap, or a nylon NATO strap made out of recycled plastics. When purchased at retail, the steel bracelet comes at a $500 premium but not all models are available with all strap/bracelet options. A tempting alternative to the usual dive suspects, the Breitling Superocrean Automatic is a highly accomplished and good-looking model and it is offered in enough different sizes and colors to suit every possible wrist.
Other Breitling Options to Consider:
– Superocean Heritage: A vintage-inspired dive watch based on iconic models from Breitling's history.
– Superocean Heritage B20 Automatic 42: a tribute to the original references, the B20 has an in-house movement and still comes in at under $5,000.
Oris Aquis
Aquis Key Features:
– Case Diameter: 36.5mm; 39.5mm; 41.5mm; 43.5mm; 45.5mm; 45.8mm; 49.5mm
– Materials: Stainless Steel; Titanium
– Functions: Time w/ Running Seconds, Date Display; Chronograph; GMT; Regulator; Day-Date; Pointer Moonphase; Small-Seconds; Depth Gauge
– Bezel: Rotating Dive Bezel w/ Ceramic, Steel, or Tungsten Insert
– Dial: Multiple Options Available Depending on Configuration
– Bracelet: Metal Bracelet; Rubber Strap; Leather Strap
– Water Resistance: 300 Meters / 1,000 Feet – 1,000 Meters / 3,300 Feet
– Retail Price Range: $1,850 – $5,450 (Approx.)
Click here for our Ultimate Buying Guide on the Oris Aquis.
As a brand, Oris is widely considered to offer some of the best value for the money within the entire Swiss luxury watch industry. Oris was founded way back in 1904 and today, the company produces a catalog of entirely mechanical timepieces that are powered by both third-party and in-house movements. Since Oris is not part of a larger parent company, the independent brand has a lot of freedom in terms of its designs and market positioning, and you will find Oris watches priced at a wide range of values, from under $2,000 to over $10,000 for the limited-edition solid gold models powered by advanced in-house movements.
Among Oris's watch collections are two different lines of dive watches: the Divers Sixty-Five and the Aquis. While the Divers Sixty-Five is heavily drenched in nostalgia and draws its aesthetic inspiration from Oris's very first diver from 1965, the Aquis is a thoroughly modern timepiece and boasts an increased depth rating and a unique design that is immediately identifiable as being from Oris.
Within the last several years, the greater category of luxury sports watches with integrated bracelets has become one of the most popular, and industry icons such as the Audemars Piguet Royal Oak and Patek Philippe Nautilus are now regarded as some of the most desirable (and expensive) luxury timepieces in the world. With that in mind, the Oris Aquis checks all of these same boxes and can be purchases for less than a tenth of what you will pay for either a Nautilus or Royal Oak.
Despite all being united by the collection's signature multi-component case with an integrated bracelet design, Oris Aquis watches are offered in case sizes that range from a compact 36.5mm all the way up to 49.5mm and the series offers an incredibly wide range of complications, including chronograph, GMT, day-date, and even regulator models (just to name a few). Additionally, even though Oris Aquis watches feature an integrated bracelet design, the brand also offers both rubber and leather strap options, which open up the collection to a wider range of styles and allow owners to change the look and feel of their watch to suit the occasion.
Between its highly accessible price point and the huge number of available configurations, it is easy to find an Oris Aquis model that is perfect for you. Plus, with professional dive watch capabilities and a unique design, the Aquis is a great gateway into luxury watch ownership that will always have a meaningful place in your watch box, no matter how large your collection may get or the other timepieces that you acquire throughout your collecting journey.
Other Oris Options to Consider:
– Divers Sixty-Five: Oris's other dive watch collection; vintage-inspired models based on the brand's original 1960s design.
– Big Crown ProPilot: A modern take on the classic pilot's watch that is available in a wide range of configurations.