How To Buy A Pre-Owned Rolex Watch
By Paul Altieri
Looking to buy a used Rolex watch? For starters, you have made the right decision. Rolex is one of the most valuable brands in the world and its watches have been cherished by many for 100 years. And while Rolex watches are widely considered the best made watch in the world from and engineering and style perspective, a Rolex is so much more than just a timepiece. Wearing one stands for quality, luxury, success, style, and grace. 
So, how do you buy a Rolex watch and is it better to buy brand new or pre-owned? Buying a new Rolex is straightforward as there are hundreds of authorized Rolex dealers throughout the world listed on the Rolex site at www.rolex.com/en#/store-locator/unitedstates. And since there are generally no discounts allowed, all authorized dealers, or ADs as they are called, must sell at the full suggested retail price set by Rolex. This saves customers from having to haggle and shop around from dealer to dealer. The disadvantage is that you are paying full retail plus sales tax for the watch. This brings us to a second and even larger resource: buying a pre-owned (or used) Rolex watch. Like buying a new car, a Rolex purchased brand new from an authorized dealer can lose as much as half or more of value after purchase. This contrasts with a pre-owned Rolex that, when bought from the pre-owned Rolex exchange at Bob's Watches, will only lose the difference between the buy and the sell price, which is substantially less. For example, a new steel Submariner costs almost $10,000 with sales tax, compared to a pre-owned one that could be bought for about $6,000.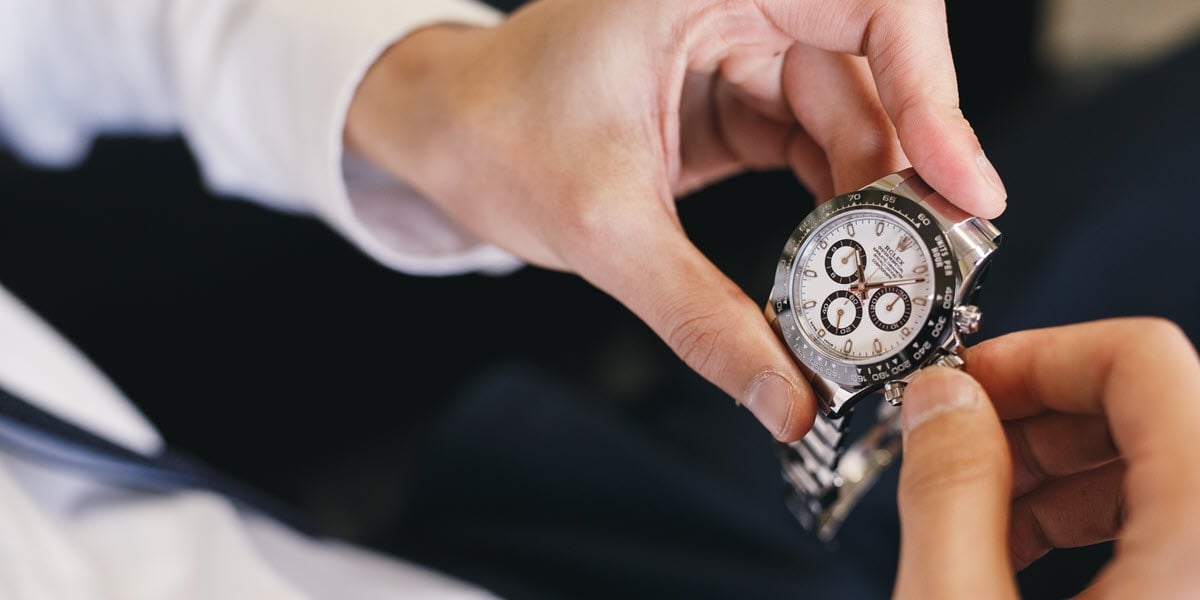 Both buying options have their advantages and will get you into a great Rolex watch that can be enjoyed for more than a lifetime. While buying a new Rolex from an authorized dealer at full price is easy, buying a pre-owned Rolex is more challenging and that is why we are offering this "How To Guide" to help customers make the right choices.
In order to foster a successful buying process for used Rolex watches, the following tips on how to buy pre-owned Rolex watches will prove extremely helpful:
eBay and Craigslist are not good options for most buyers. You never can really be sure who you are dealing with on eBay, have no assurance the item is 100% genuine, and you typically have little recourse if the item is not satisfactory. Craigslist can be risky as it involves meeting people directly and often paying cash, typically without any guarantee related to authenticity or that the watch is not stolen.
Know why you are searching for a pre-owned Rolex. There are several reasons why Rolex consumers choose to buy used. Some are looking to save 30 percent more on a particular contemporary Rolex watch in near perfect condition. Others are seeking more watch for their buck and understand that when purchasing used they can own a watch with higher levels of functionality and more valuable precious metals. There are also avid Rolex collectors who are seeking out rare watches as an investment for the future or who like to wear a different Rolex every day of the week. By understanding your reasoning for purchasing a pre-owned Rolex, your search can be more focused and beneficial. 
Set a budget. Once you understand the purpose of your pre-owned Rolex search, you can successfully set a budget. This will help you better define your search terms online and/or help a pre-owned Rolex seller locate the exact watch for which you are hunting. 
Carefully research specific Rolex models and understand the factors behind their value. Thanks to the Internet, there are numerous Rolex-oriented resources that offer a wealth of information on Rolex watch history, price orientation, features, and market demand. For instance, a mint condition Rolex Daytona will most likely cost much more than one that is in good condition. Likewise, a pre-owned vintage "Paul Newman" Daytona in excellent condition can be worth much more than another Rolex Daytona model in "good" condition. The reason for the watch's value is rooted in both its history and extremely rare nature. Just like any rare collectible, Rolex watch prices are driven by market demand. Educate yourself on the watch you are seeking. 
Find a trustworthy and reputable Rolex seller. There are a multitude of Rolex sellers in the marketplace, but there are very few that offer a combination of high-quality service, competitive pricing, and an authenticity guarantee for pre-owned watches. One of the best ways to evaluate the quality of a Rolex seller is to search for online customer reviews. It is a good policy to avoid those with poor customer reviews and/or negative press. Also, the best seller are willing to listen carefully to your needs, help you find the pre-owned Rolex of your dreams, and stay within your budget. Search the Internet for "Pre-Owned Rolex Seller" and "Pre-Owned Rolex Seller Reviews" to find a reputable partner. 
Ask for real pictures and about original parts. Less than respectable pre-owned Rolex sellers have been caught providing their customers factory images (which aren't the actual pre-owned watch pictures) and digitally editing watch images. It is important that actual, unedited pictures are obtained prior to purchasing a Rolex watch. Some sellers take the time to make online videos of each watch they sell so it's possible to view their exact conditions. Also, it is vital that you know if watch parts have been replaced. Replaced parts can dramatically affect the value of a Rolex watch, especially if non-Rolex aftermarket or fake parts were utilized. 
Get the right deal. When your dream pre-owned Rolex watch is identified, it is time to get the right deal. There are many dealers who may try to get way more than a watch is worth. Never be afraid to walk away if they are being unfair or unreasonable. When armed with the right knowledge of a particular model, its demand, and average market worth, you can make the best decision.
In closing, there are many challenges and difficulties when searching for a pre-owned Rolex, including making sure the watch is authentic and has no aftermarket or fake parts, is a watch that has not been stolen, and is at the appropriate price given condition. Bob's Watches acts as a transparent and reputable marketplace for the purchase and sale of Rolex watches and offers a lifetime authenticity guarantee on every watch it sells.