The Rolex Submariner has such a long and rich history as one of the world's premier dive watches that it should come as no surprise to learn that this iconic timepiece has not just one nickname, but a whole slew of them. Beloved for its appearances in James Bond films, its rare dial variations, and its colorful bezels, the Submariner has taken on many different identities over the years and in the process, it has acquired a number of different nicknames.
Rolex Submariner Nicknames
Some of the Rolex Submariner's various monikers pertain to a single reference or specific configuration, while others can refer to several different models that all share the same defining core characteristics. Additionally, it's important to note that all Rolex nicknames are entirely informal; there are no "official" or "correct" nicknames.
Instead, these names have simply been used by enough people for a long enough time that they have become the collectively agreed-upon titles for their specific watches. With that in mind, below are some of our favorite Rolex Submariner nicknames for both vintage and modern watches.
Click here for our Ultimate Buying Guide on the Rolex Submariner.

James Bond Submariner
– Reference: 6538
– Key features: Oversized crown; no crown-guards
The Rolex Submariner was the very first timepiece to be worn by James Bond on the silver screen. In keeping with Ian Fleming's portrait of the famous spy, Agent 007 had to wear a Rolex. As the James Bond creator wrote, "A gentleman's choice of timepiece says as much about him as does his Saville Row suit." Fleming never specified the specific kind of Rolex to be worn by Bond, although the author personally wore an Explorer 1016 in his personal life. However, it was ultimately a ref. 6538 Submariner that actor Sean Connery wore during the inaugural James Bond film 'Dr. No' in 1962, forever cementing the Submariner's relationship with the fictional spy.
Since the Submariner 6538 was the first watch to ever be used in a James Bond film, it will forever be known as the original "James Bond" Submariner. The reference 6538's defining characteristics are its oversized winding crown and case without crown-guards; however, it is not the only vintage Submariner reference to feature these traits. Furthermore, it is important to note that the "James Bond" nickname often gets incorrectly used to describe other big-crown Submariner watches or other vintage references without crown guards, but only the ref. 6538 has the distinction of being called the original "James Bond" Submariner.
However, the reference 6538 was not the last Rolex watch that Bond would wear in the films. Since the original "James Bond" watch, Agent 007 has sported a handful of different Rolex models and even another later-era Submariner reference in subsequent films.
Kermit Submariner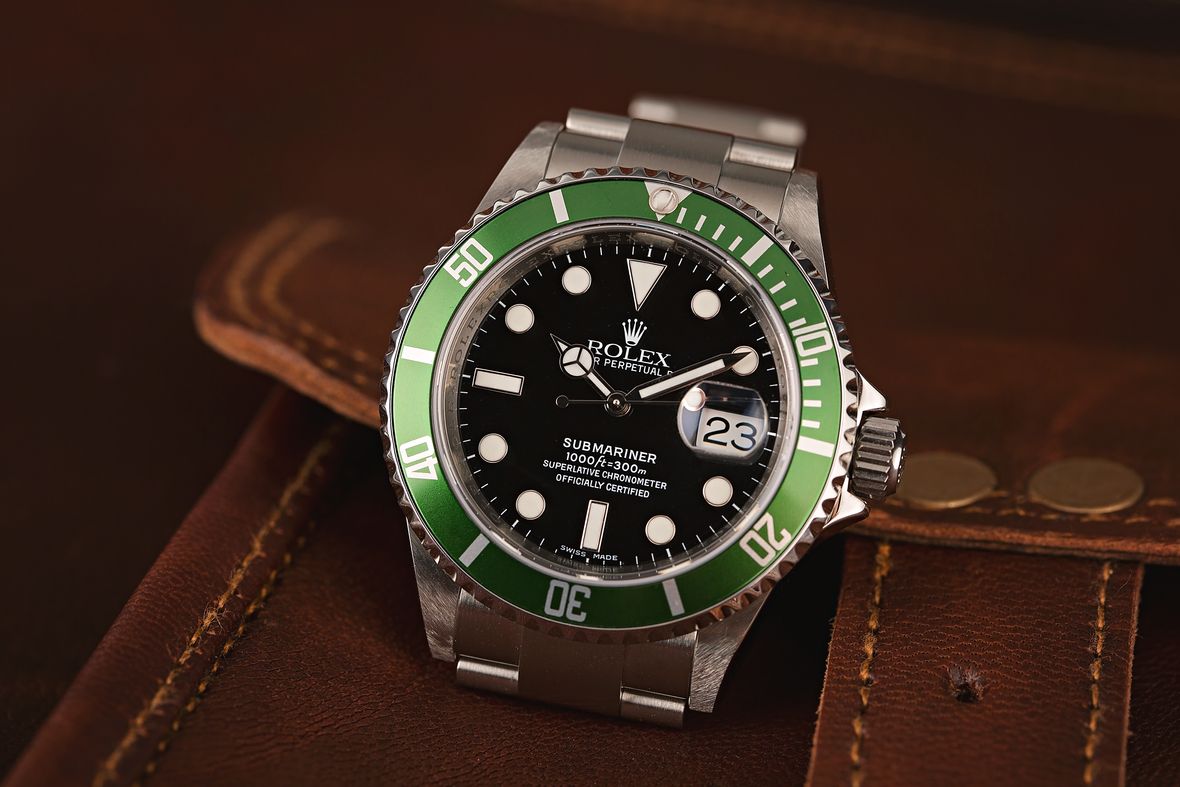 – Reference: 16610LV
– Key features: Black dial; green aluminum bezel
To celebrate the 50th anniversary of the Submariner in 2003 – one of the brand's most popular models ever created – Rolex decided to do something bold and different. For the first time ever, the iconic Swiss watch manufacturer introduced a bright green aluminum bezel into the collection and fitted it exclusively on the stainless steel date-displaying reference 16610 with the green bezel version dubbed the reference 16610LV.
Fitted with a black Maxi dial, the Kermit was highly unusual for the time and at first, the model took a while to catch on with the public. However, in the years since then, the Kermit has become one of the most popular, modern pre-owned Submariner watches to collect. Naturally, the "Kermit" nickname lovingly comes from the famous green Muppet frog character from Sesame Street, and the model holds the distinction of being both the first Submariner to feature a Maxi dial and the only Rolex watch to ever be fitted with a green aluminum bezel.
Red Submariner
– Reference: 1680
– Key features: Red "Submariner" text on dial
The "Red Line" Submariner or "Red Sub" is arguably one of the most iconic and instantly recognizable vintage Submariner watches of all time. Only produced for the first half of its production run, this version of the stainless steel reference 1680 Submariner featured the 'Submariner' name written in red on its dial. The "Red Submariner" is special because it represents the only time in Rolex's history that the brand ever printed the Submariner name in red letters, and Rolex even went so far as to phase out these red line dials during the second half of the model's production run.
While Rolex did produce a decent number of 'Red Line' Submariner watches, over the years, many of these original "Red Sub" dials got replaced during routine servicing. After Rolex stopped production of the Red Submariner dials and switched to a style that featured all-white text, any damaged dials were replaced with the later-era style that lacked the Submariner name in red. As a result of this practice, there are now relatively few of them left, making Red Submariner watches among the most collectible and frequently pursued vintage Rolex models.
Hulk Submariner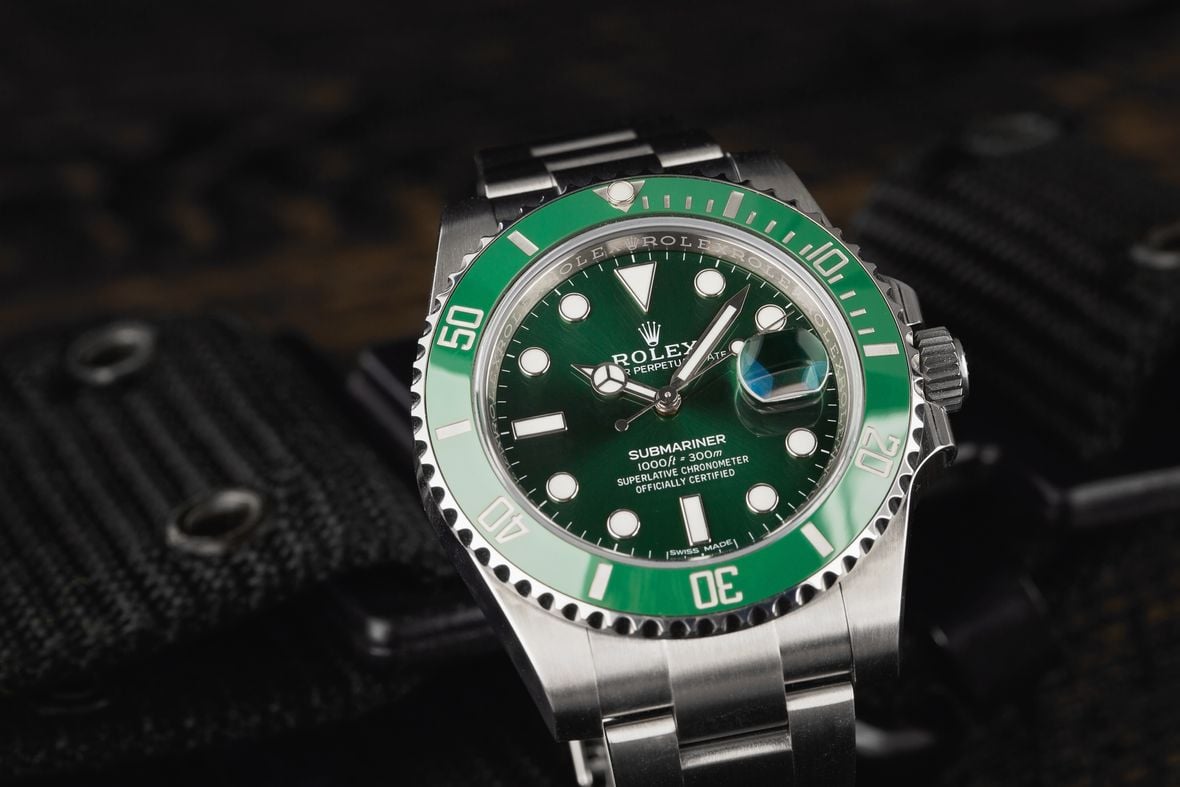 – Reference: 116610LV
– Key features: Green dial; green ceramic bezel
When the Rolex Submariner reference 116610LV first appeared in 2010, it quickly picked up its now-famous "Hulk" nickname due to its bright green ceramic bezel, matching green sunburst dial, and updated case with thicker lugs and crown-guards. Just like the famous Marvel superhero, the "Hulk" Submariner is a bigger, bolder, and all-green version of its traditional counterpart. Just like the Kermit Submariner, the Hulk took a while to catch on with the public, but since getting discontinued in 2020, the Hulk has quickly become one of the most collectible modern Submariner watches.
The Hulk Submariner represents the very first time in the Submariner's history that the stainless steel version of Rolex's iconic dive watch was ever offered with a dial color other than black. Additionally, the Hulk also symbolizes Rolex's first use of green ceramic, and since the new green bezel Submariner watches now once again feature black dials, the Hulk stands out as the only Submariner model to ever be fitted with a green dial.
Smurf Submariner
– Reference: 116619LB
– Key features: White gold construction; blue dial with blue ceramic bezel
Like the Hulk, the "Smurf" is another Submariner model with a Super Case that includes a dial that matches its bezel. However, what sets this timepiece apart is its solid 18k white gold construction paired with its bright blue ceramic bezel and matching blue dial. Clearly, it's easy to see why collectors started calling this model the "Smurf" with its bright blue and white coloring being more than slightly reminiscent of the fictional cartoon characters.
Although this Submariner has a seemingly silly cartoon nickname, the "Smurf" is actually one of the most expensive modern Submariner references available. Discontinued in 2020 and replaced by a new white gold model with a blue bezel and black dial, the Smurf stands out as the only white metal Submariner to ever feature a blue dial and bezel. Today, you can only get the Smurf Submariner on the secondary market, and it usually comes at a premium. It's a favorite among celebrities and professional athletes due to its combination of premium materials and an understated, yet elegant appearance.
Bart Simpson Submariner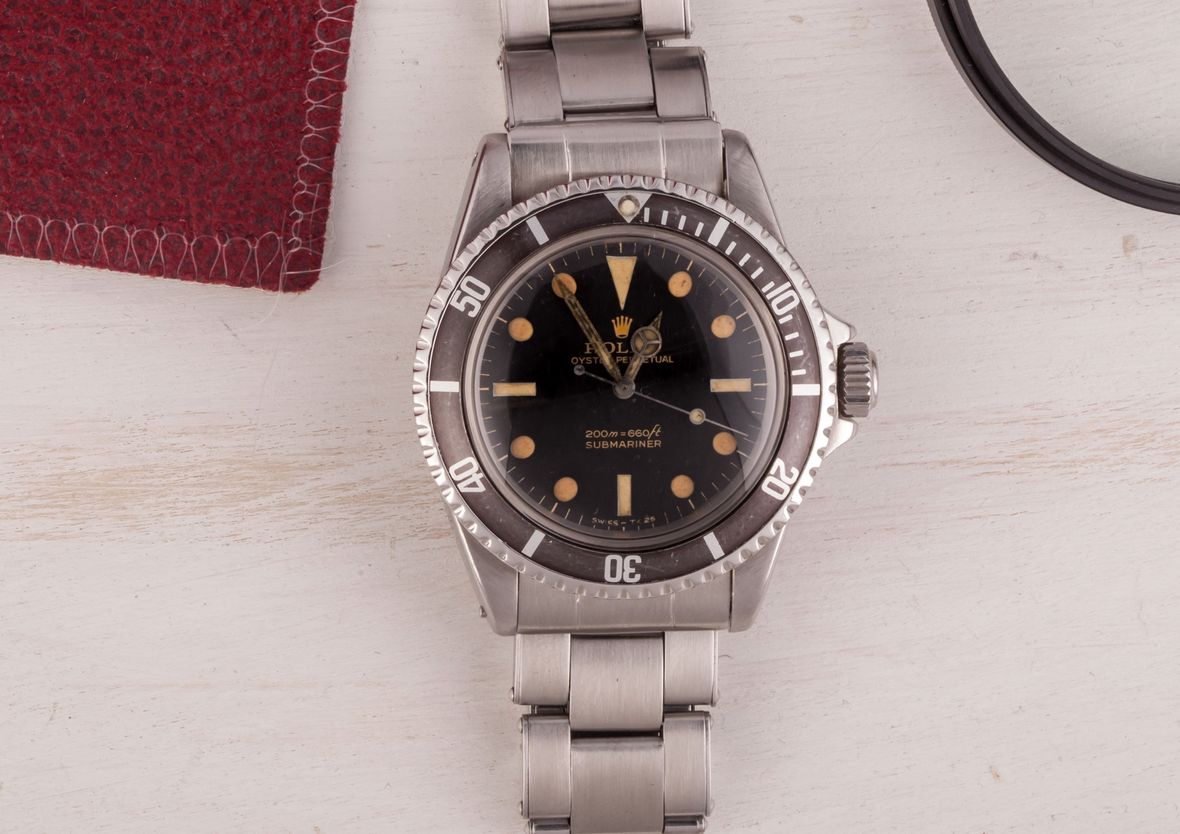 – Reference: 5512 and 5513
– Key features: Flat-pointed coronet logo
Another cartoon-themed Submariner nickname is the "Bart Simpson" – which refers to vintage reference 5512 and 5513 watches that were produced for a short period of time in the 1960s, right before Rolex made the switch from gilt to matte dials. The "Bart Simpson" name itself comes from the shape of the Rolex coronet that appears on the dials of these watches, which features shorter and flatter points – similar in shape to the hair of the famous Simpsons cartoon character.
Virtually all vintage Rolex Submariner watches are highly sought-after and collectible, but since the "Bart Simpson" variations were only produced for a very short window of time during the mid-1960s, they are now held in particularly high-regard and pursued by collectors today. Additionally, since "Bart Simpson" Submariner watches all have gilt-dials, their distinct coronets often appear golden-colored, which only furthers their resemblance to the famous Simpson character.
Bluesy Submariner
– Reference: 16803, 16613, 116613LB, 126613LB
– Key features: Two-tone construction; blue dial with blue bezel
While names like Hulk, Smurf, and Kermit all pertain to just one specific reference of Rolex's legendary dive watch, the "Bluesy" nickname can refer to any two-tone Submariner model that is fitted with a blue dial and bezel. The name is often used to refer to any two-tone Rolex Submariner with a blue dial and bezel, regardless of its specific reference or if its bezel insert is made from aluminum or ceramic.
Blue dials and bezels have been an option on Rolex's two-tone Submariner watches for as long as the brand has been producing a bi-metal version of its classic diver's watch, so the "Bluesy" nickname can apply to either the reference 16803, 16613, 116613LB, or 126613LB. Curiously, the solid gold Submariner watches with blue dials and bezels are equally blue as their two-tone counterparts, yet it is the steel and gold models that go by the "Bluesy" nickname.
Milsub Submariner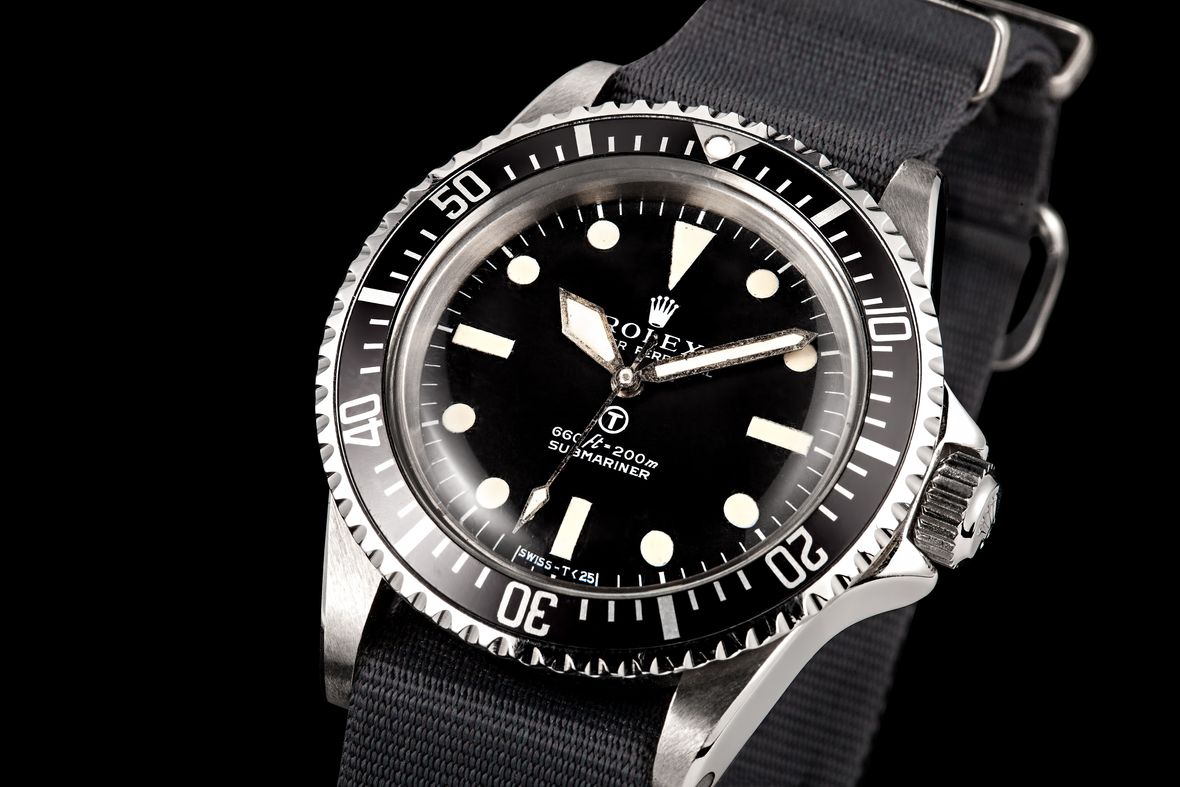 – Reference: 5517, (also 5513 and double-stamped 5513/5517)
– Key features: Sword-shaped hands; fully-demarcated bezel; welded bars at the lugs; circled T insignia on dial
Easily one of the most collectible variations of the Submariner is the "Milsub" and this nickname applies to the military-issued Submariner watches that were produced for the British Ministry of Defense. Unlike the standard-production models, Milsubs feature sword-shaped hands, fully-demarcated bezel inserts, cases with welded bars between the lugs, and dials with circled T insignias on them to denote the use of tritium.
The "Milsub" nickname most frequently applies to the reference 5517, 5513, and double-stamped 5513/5517 Submariner watches. However, before these Milsub models were ever created, Rolex had previously supplied modified versions of the reference 6538 Submariner to Britain's Ministry of Defense (produced as reference A/6538 and 6540 watches). While these older models lack the same defining features as their later-era Milsub counterparts, they were still produced for the Ministry of Defense and issued to branches of the British military, so the "Milsub" nickname certainly also applies to them.
The Next Rolex Submariner Nicknames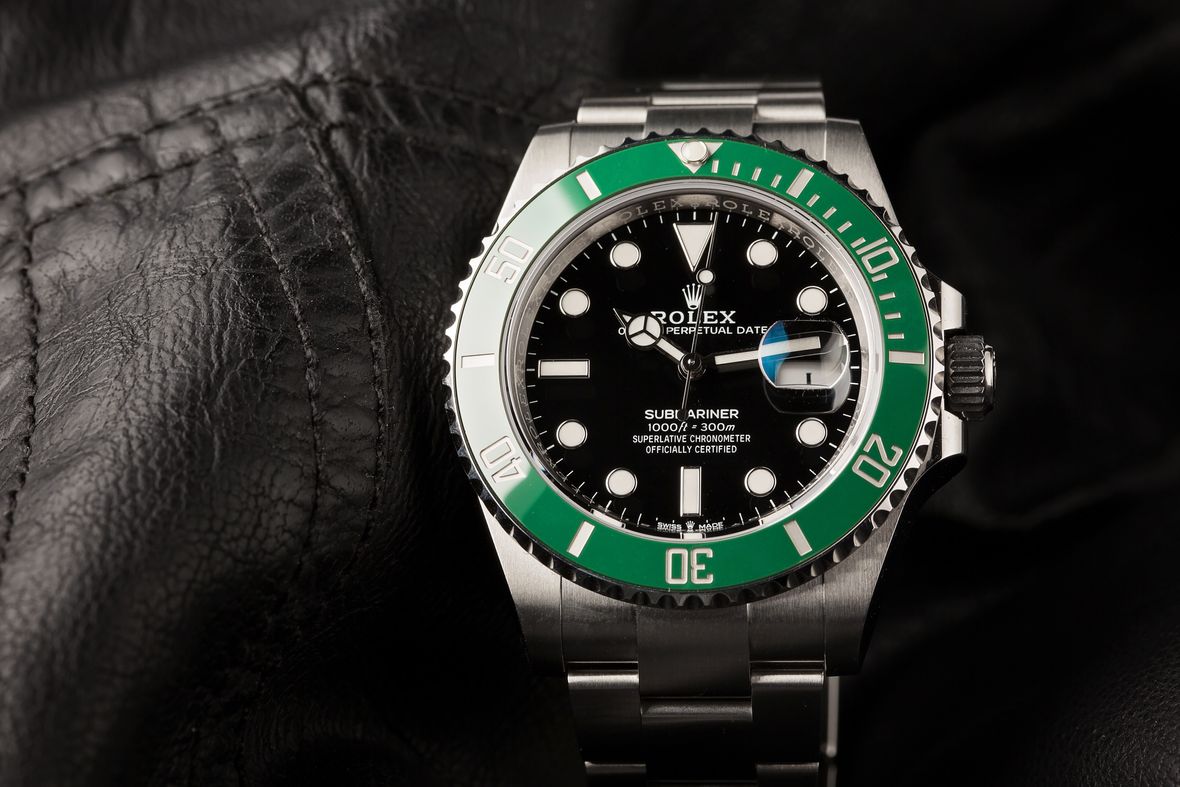 – Reference: 126610LV; 126619LB
– Key features: Black dials with either blue or green ceramic bezels
Lastly, there are some Submariner models whose nicknames are still up in the air. Due to the fact that all Rolex nicknames – no matter how commonly used and ubiquitous they may be – are entirely unofficial, sometimes a name just needs to be around long enough and get adopted by enough people before it becomes the collectively agreed-upon nickname for a specific Rolex watch.
A perfect example of this is the newly-released Submariner generation that was just introduced in September 2020 – the new watches have plenty of potential nicknames, but none of them have been around long enough to the point where the industry has settled upon its final choices. For example, the reference 126610LV with its black dial and green ceramic bezel is sometimes called the "Cermit" due to more-or-less being the ceramic bezel version of the Kermit, but other collectors call the watch the "Starbucks" due to its resemblance to the coffee company's logo.
Similarly, the new 41mm white gold Submariner with its black dial and blue bezel has received a number of different nicknames, including Cookie Monster, BMW, Sega, and Sonic the Hedgehog – just to name a few. Only time will tell what we ultimately end up calling these new Submariner watches, but you can guarantee that some of these nicknames will eventually stick and become their new unofficial titles.